What: Uncle Dave Macon Days Announces 2022 at Hop Springs
Where: 6790 John Bragg Highway
Murfreesboro, Tennessee 37127
From a sense of sound to image, roots music and Uncle Dave Macon enthusiasts will follow the picturesque vistas of Middle Tennessee to Hop Springs in Readyville, TN.  Roots Rendezvous will present Uncle Dave Macon Days, October 7 and 8, 2022. Now, folks should mark their calendar and SAVE-the-DATE!
Uncle Dave Macon Days has been sharing the roots music experience for over 43 years in Middle Tennessee. Thriving in a decade of accelerated change has been the goal of the Uncle Dave Macon Days: Roots Rendezvous enterprise. The Board of Directors of Uncle Dave Macon Days is announcing a renewed commitment to the mission of perpetuating and preserving the made-in-America music.
While American music has been creatively in transition, Uncle Dave Macon Days has shared roots-Americana music with those music lovers on a quest to discover its beginnings from local fans to visitors from around the world. With a zeal to maintain the musical culture for over four decades, the Uncle Dave Macon Days organizers have seen first-hand these experiences mirrored at the festival. The early music performed on the front- porches, parlors, and barn raisin's of the 19th century and early 20th   are all honored and celebrated.
Gloria Christy, President of Uncle Dave Macon Days responds,
"Over the past forty plus years, our organization has been committed to preserving and perpetuating the roots music story through the festival, Uncle Dave Macon Days. We have continued to connect, collaborate, and cooperate with the assets in our community to achieve this goal one step at a time. With that approach, we anticipate greatness in the years to come."
Ben Wilson, Director of Uncle Dave Macon Days said,
"Like most music events, fairs, and festivals, Uncle Dave Macon Days has been adversely affected by the pandemic.  As life continues to improve through 2022, I predict an increased interest in family-friendly events like the UDMD festival.  In the future, the desire for live roots music will continue to appeal to younger more diverse audiences. Uncle Dave Macon festival is going to bounce back even faster for a better festival in 2022."
Mark Jones, General Manager, Hop Springs
"Big dreams, big plans!" describes the genesis of this dynamic partnership. Ideas are being formed to create a tourism destination place highlighting the roots of America's musical story. The tourism potential in this pristine, picturesque atmosphere have been realized with collaboration involving Uncle Dave Macon Days and Hop Springs. The economic, social, and cultural possibilities will enhance Rutherford County as a tourism destination attraction for decades to come." 
In the last year, noting a 1.2 million economic impact of the Uncle Dave Macon Days event to our community, organizers have looked inside and out then imagined the future. Now, as we progress and dream about the decades to come, together we can only imagine the possibilities and potential.
On October 24th, the announcement was made Sunday evening at Hop Springs at the The SteelDrivers concert, the 2015 Uncle Dave Macon Days Trail Blazer Award winner. More information including the countdown to the 2022 Uncle Dave Macon Days will be featured on the Uncle Dave Macon Days website at www.uncledavemacondays.com and all social media platforms.
For more information about Uncle Dave Macon Days go to: uncledavemacondays.com or email at [email protected]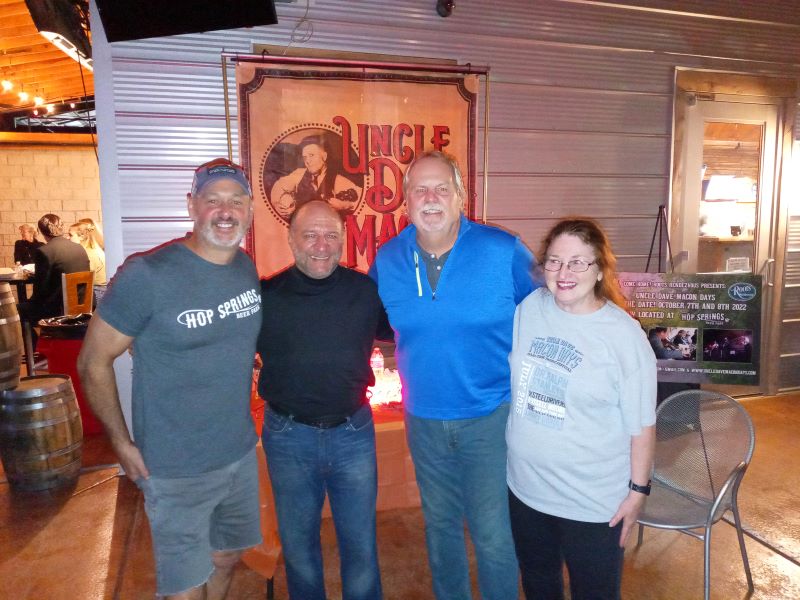 L to R: Jerry Bostelman, Kevin McNulty, Mark Jones, Gloria Christy