This announcement has been updated after the event including video:
Grammy Nominated Songwriter Rick Lang Invited Performed his Original Song at the New Hampshire State House
Concord, N.H. (May 3, 2023) — Grammy-nominated songwriter and New Hampshire native Rick Lang and friend Evan Richert collaborated on the song "Great Stone Face" to offer a musical tribute to celebrate the legacy of New Hampshire's "Old Man of The Mountain," which was one of the best-known natural rock formations in the country. Lang and his bass player, Bob Dick, perform the song at the New Hampshire State House on May 3, 2023, for the invitation-only Old Man of the Mountain Remembrance Event which commemorated the 20th anniversary of the collapse of the "Great Stone Face." Also, during the event, New Hampshire Governor Chris Sununu officially proclaimed May 3rd "Old Man of The Mountain Day."
The Old Man of the Mountain Remembrance Event was made available to the public online at oldmannh.org. Presented by the Museum of the White Mountains in Plymouth, attendees learned how The Old Man shaped New Hampshire's identity from its first recorded discovery in the early 19th century until today. The cultural part of the program included personal stories about the old man and poems from local students, where Lang presented his new song "Great Stone Face" and debuted the "Great Stone Face" music video.
A free download of the recorded track, featuring the stellar vocals of two-time Grammy Award-winning artist Josh Shilling, is available at RickLangMusic.com. Lang said his co-writer, Richert, found inspiration for the song from Nathaniel Hawthorne's short story, "The Great Stone Face," published in 1850, and suggested we follow the storyline for our song.
Lang's songs have been recorded by renowned artists in Bluegrass, Southern Gospel, and Jazz music. He has over 100 song cuts to his credit and has released seven studio albums. His many career highlights include his second gospel album, Gonna Sing, Gonna Shout, on Billy Blue Records. The project received a Grammy Award nomination for Best Roots Gospel Album, and the title track won the 2019 International Bluegrass Music Association Gospel Recording of the Year Award. Rick and his wife, Wendy, have two daughters and three granddaughters. He currently resides in Kingston, New Hampshire. Last year, Lang released his critically acclaimed album, A Tale To Tell, his debut album on Dark Shadow Recording. This highly captivating collection of story songs includes the incredible vocal talents of Tim Stafford, Shannon Slaughter, Becky Buller, Trey Hensley, David Parmley, Stephen Mougin, Luke Munday, Kati Penn, Alan Bartram, Brandon Rickman, Jana Mougin, Rick Faris, and James Kee.
For more information on Rick Lang, please visit RickLangMusic.com.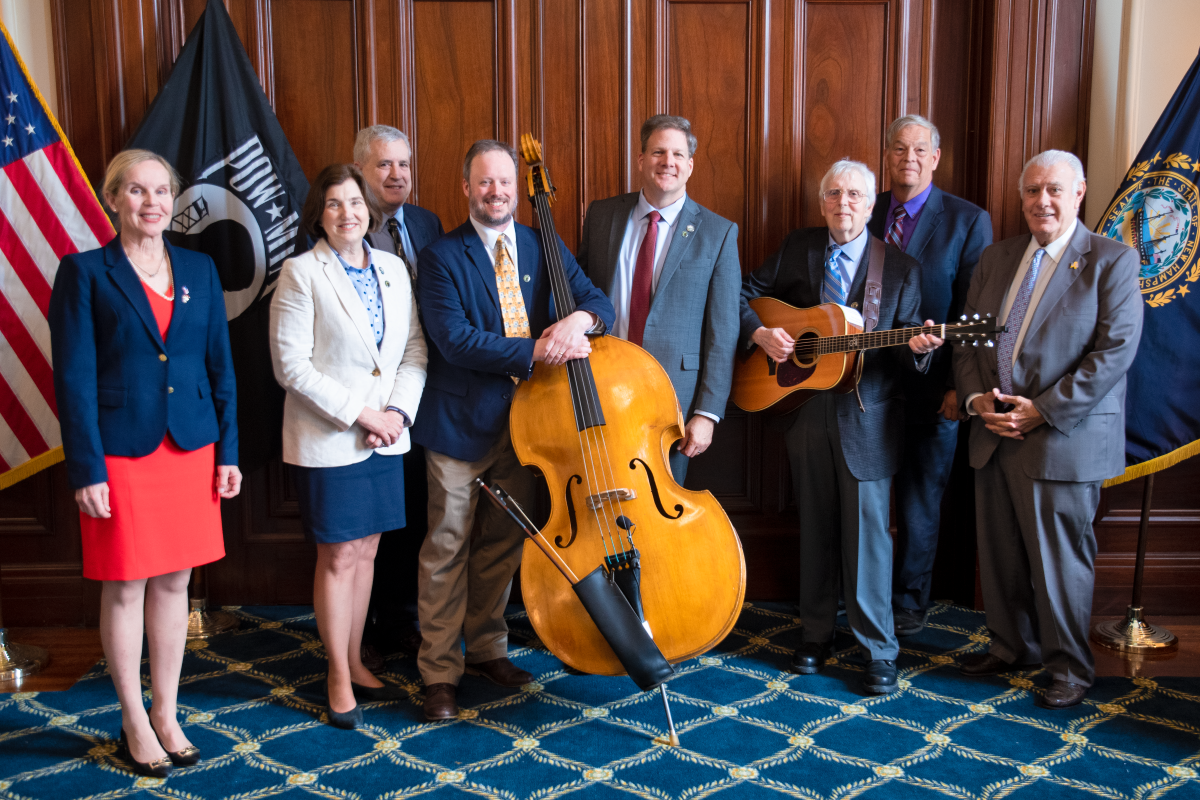 Photo Credit:
Courtesy of the Governor's Office
LEFT TO RIGHT: Councilor Janet Stevens, Councilor Cinde Warmington, Councilor Joseph Kenney, Bob Dick with bass, Governor Sununu, Rick Lang with guitar, Councilor David Wheeler, and Councilor Theodore Gatsas