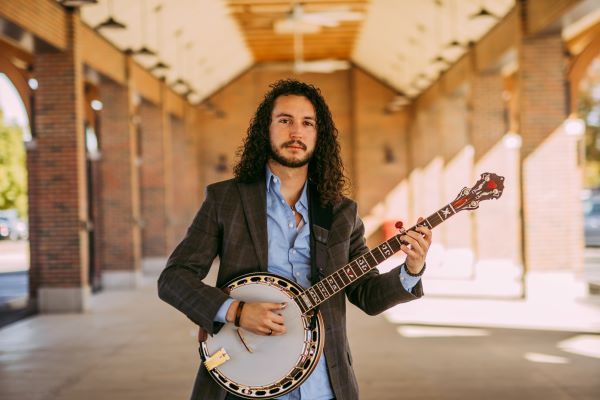 Zack Vickers, the banjo player with the Dave Adkins Band, has been named a Gold Tone Endorsed Artist.  Zack was presented with the Mastertone™ "Bluegrass Heart" Béla Fleck Signature Banjo. "I am thrilled to be a new Gold Tone Artist. Meeting the Gold Tone family has been amazing and I'm ready to pick, pluck and partner with a company that makes killer instruments and cares about the work they do. If you want to come see and hear this banjo in person, check out the Dave Adkins Band in concert," said Zack.
"Zack Vickers is a talented musician who elevates the talents of the Dave Adkins Band. Being a great artist is only half the work and Gold Tone has found Zack to be an influential and superb person of character. Gold Tone is happy to bring Zack on as a Gold Tone Endorsed Artist and we believe that he is both a valuable asset to the banjo playing community as well as spreading the word of Gold Tone instruments," said Nick Gehlman.
Adkins said, "I think Zack is one of the most versatile banjo players I've ever had the privilege of playing with. He's not cornered into one style. He can play any style the song calls for and puts his spin on it. I'm proud to have him starting his third year with us and he keeps getting better and better. Rounding out our group is Bobby Davis who has seven years in the band along with Ari Silver and Layla Cantafio who have performed with us for over two years. I feel very blessed to have this band together. Come see us sometime!"
The band had an extremely busy touring season this year and gearing up for another big tour next year.  They are also celebrating Dave Adkins' latest single, "Bad Moon Rising" on Billy Blue Records which is a cover of Creedence Clearwater Revival's classic by John Fogerty. "Though it was originally recorded with the twangy rockabilly sound that made CCR so unique in its day, it makes a natural for grassification with its irrepressible beat," said Bluegrass Today.
For more information on Gold Tone Music Group, please visit goldtonemusicgroup.com/goldtone. For more information Zach Vickers, please follow Zack on Facebook and visit daveadkinsmusic.com.