Nashville, Tenn. – (October 24, 2023) The Goodwin Brothers won big at the 9th Annual Josie Music Awards at the Grand Ole Opry House in Nashville last Sunday night. The Goodwin Brothers won the Bluegrass Song of the Year Award for their Pinecastle Records' single, "Everyday Thing." In addition, Chase Bush won the Vocalist of the Year Award, and Jonathan Goodwin took home the Guitar Player of the Year Award. 
"We are always honored to be recognized for the music we create," says the band. "Big thanks to the JMAs, the Grand Ole Opry House and everyone that took the time to vote for us. We truly appreciate everyone's support!"
To celebrate the momentous occasion, The Goodwin Brothers are excited to reveal their new highly charged single, "Down To The Mill," featured on the band's latest critically-acclaimed Pinecastle Records project If You Hadn't Noticed. The feel-good anthem showcases members Jonathan Goodwin, William Goodwin, and Chase Bush throughout. Its highly relatable lyrics were penned by Tim Stafford and Thomm Jutz. It serves as the follow-up to the previous hit "Everyday Thing," which peaked at No. 2 on the Bluegrass Today Grassicana Chart. 
The band has plenty more surprises in store throughout 2023 and into 2024. These include several upcoming tour dates, where fans can hear them perform new music for the first time. To learn more about the group, find upcoming tour dates, and the latest news stories, visit their official website, thegoodwinbrothers.com.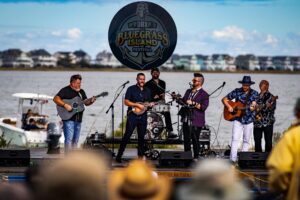 The Goodwin Brothers at the 2023 Outer Banks Bluegrass Island Festival. Photo by Laci Mack